"Sirens"
by Abigail Wall
Abigail Wall is constantly fascinated by personal beauty standards and those put upon females in day to day society. "Sirens" is a visual study in the omnipresent fetishization of the female form and face and the parallel of the power women can hold within or without that cycle.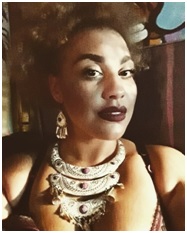 The theme of mixed race and women of color are highly represented as the artist is of mixed descent and explores beauty with all bone structures and skin shades with a focus on natural hair and over exaggerated curves, features and femininity. Inspiration for this series stems from a love of burlesque, fetish wear and lingerie. A fixation upon pinups, especially those done by Gil Elvegren, Betty and Veronica Comics and an avid love for fashion sketches and shows continues to be present for Abigail. There is strong influence from Anime and Japanese culture in general, history, Disney movies, the 1940's silhouette and Bettie Page.
Abigail became passionate about showcasing and highlighting different beauty standards after living a life in a world she visually did not fit into. Stores did not carry her body size, salons did not cater to her hair, and cosmetic counters did not sell her skin tone shades in any make up brands. She slowly began to create faces and bodies that she understood and could relate to through her art. In a world that still does not acknowledge naturally occurring features as "normal" or "mainstream", Abigail created visual representations of women she looked like and could relate to in a positive light.
"Sirens" is a heavy handed, tongue-in-cheek, boldly colored artistic compilation of women Abigail finds stunning.
"Sirens" Abigail Wall art exhibit will be on display at Framing & Art Centre of Winnipeg through August 30, 2018.
Framing & Art Centre – 200 Meadowood Drive, Winnipeg, MB  R2M 5G3 – 204-253-9557